Home | About Us | Products | Sales | Special Offers | Supports

---
We have the EM-3116 "Dyna Pentium® Mill", an affordable 4 Axis machine for you!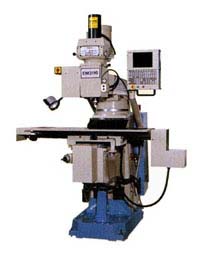 The "Dyna Pentium® Mill" EM-3116 offers the complete package to produce high quality parts, to precision tolerances, with excellent finishes and do it at an amazing speed. The Dyna Pentium® Mill can do it all, make prototypes that will become production parts or one piece lots and produces standard code that can then be used on your production machines. The Dyna Pentium® control assists even the most inexperienced CNC operator write the more complicated programs with an on board conversational CAM package. Complete with engraving, 4th axis capability, 3 1/2 " floppy drive, 5,000,000 meters of memory and can do 3 axis contouring at speeds of 1,000 blocks per second.

The "Dyna Pentium® Mill" can machine the difficult steels or aluminum with precision accuracy and smooth finishes. This machine is built rigid throughout from spindle to base and is the industry leader of itís class. The oversized ball screws, double walled heavily ribbed box construction, 22" wide saddle and 14" knee way and column all spell rugged design and quality parts manufacturing. All this at a price that is thousands of dollars less that any other machine of itís size.
HOW CAN THE EM3116 HELP YOU?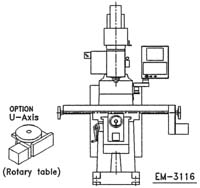 APPLICATION 1: STAND ALONE
The EM3116 is designed for:
Tool rooms: to build fixtures and tooling.
For short tun parts or production run.
3D-Engraving and many other application.
APPLICATION 2: IN CONJUNCTION WITH YOUR CAD/CAM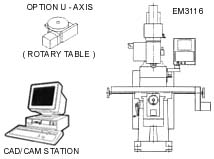 For complicated shaped parts one can use a CAD/CAM system to generate the program which can be stored on a Floppy disk or directly downloaded through internet to the "Dyna Pentium® Mill" control. It is also ideal when used to scale down the size of molds for a real prototypem verification.

APPLICATION 3: PROTOTYPE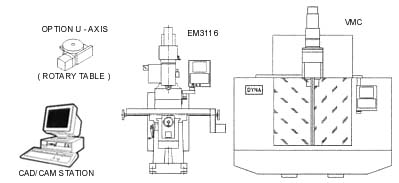 The "Dyna Pentium
®
Mill" is excellent for prototype work and for program testing. You can free your existing machining centers just for running production.
[TOP]
---
1752 JUNCTION AVENUE UNIT "E", SAN JOSE, CA 95112
Tel:(408) 452-1010 Fax:(408) 452-1099
http://www.dynamechtronics.com
Copyright © 2001 DYNA Mechtronics Inc. All rights reserved.